As part two of our designer outdoor spaces we move from the perfect balcony to tips on creating a kid-friendly designer backyard. A private backyard has so much potential to easily become a child's favourite part of a home. But just because a backyard is kid friendly, it doesn't have to lack design value. There are many ways to merge chic design with a fun, playfulness that your kids will love. Ready to have a backyard that will be the envy of both adults and children? Sit back, relax, and take notes!
1. IN VOGUE TEEPEE
Teepee's are all the rage now, quickly having become one of the hottest new accessories for home design, both indoors and out. They are cosy, sleek, and stylish and are the perfect compliment to a modern home. Introduce a cool teepee for your kid's backyard play area for instant fun and style. This teepee uses neutral colours and a mature pattern to remain stylish for both adults and children. It is the perfect place to host a tea party with school friends, or enjoy an after school snack.
2. SEE-SAW NEUTRALS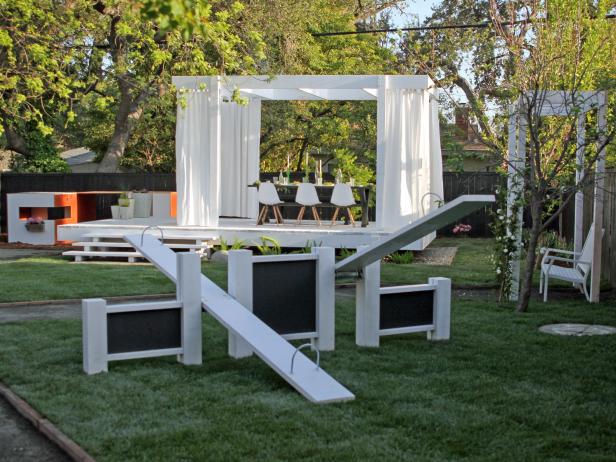 Remember how fun see-saws used to be when you were a child? It was easy to feel like you were flying high in the sky when enjoying a see-saw ride with a friend. Let your child experience this magic by adding a modern version of the see-saw to your kid-friendly designer backyard. This see-saw is sleek and chic while maintaining the classic design of a standard see-saw. The white colour is fresh and modern, and flows perfectly with the rest of the backyard. Kid-friendly certainly does not lack design in this backyard!
3. TRAMPOLINE FUN
Trampolines are another popular must have item for a child's play area. Lucky for you, a trampoline does not have to be an eye sore. Instead, a trampoline can add modern, quirky elements to your kid-friendly designer backyard. And bonus…trampolines are fun for adults too! The bright colours on this trampoline are fun and will certainly stand out in your backyard. The pillows are a nice touch of stylish accessories. Even the setting of the trampoline- the accessorized rocks below and the minimalist, neutral safety railing, ensure that this trampoline adds to the kid-friendly designer backyard.
4. AN OLDIE BUT GOODIE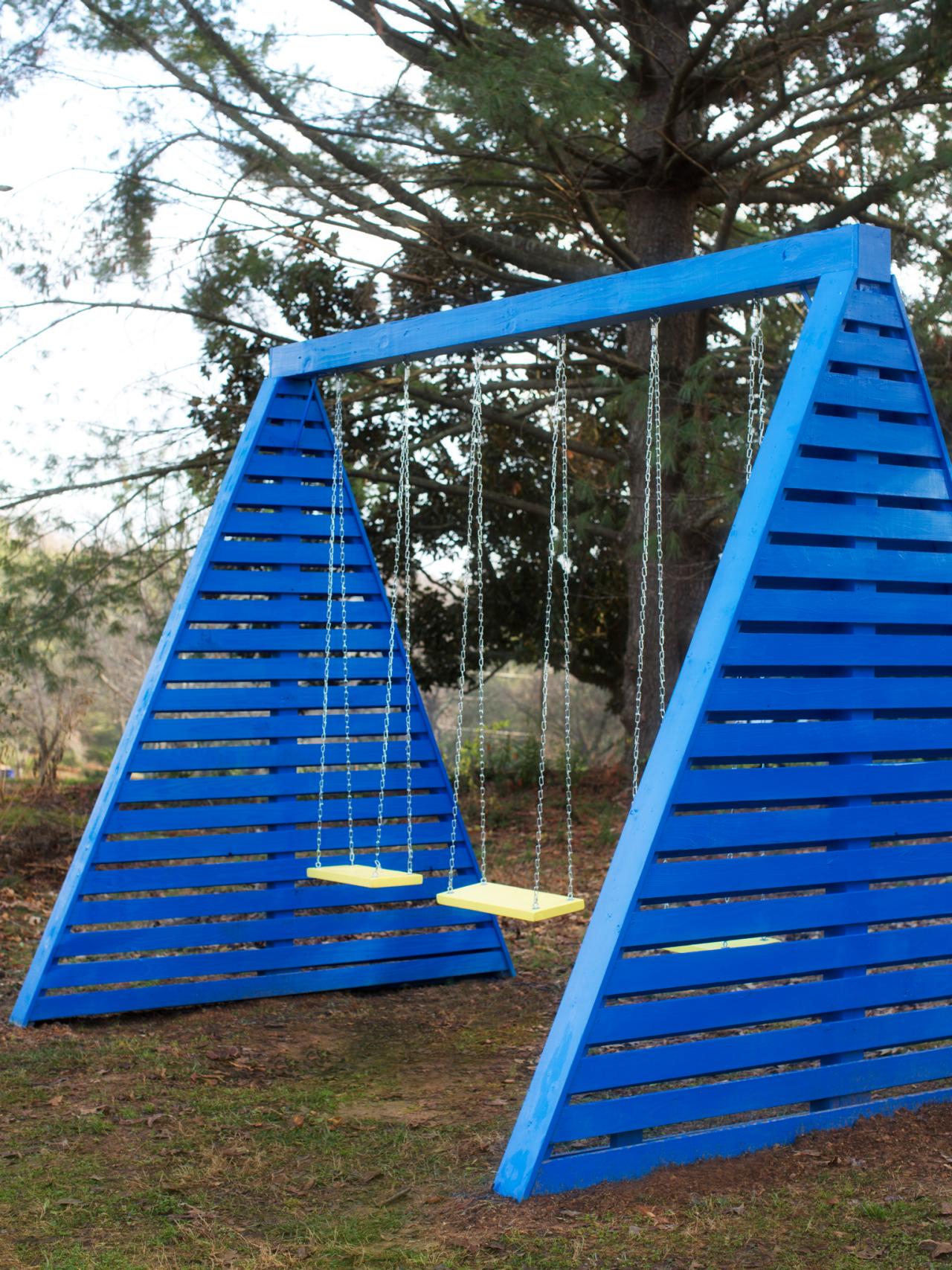 A swing set seems to be the staple of every child hood. No matter where are when you were born, a swing is an easy favourite for any child. There are many options for choosing a swing set that works for your kid-friendly designer backyard. Choose a contemporary design that will be eye-catching and have an instant wow-factor. This swing set is a perfect example the blend between high design in a child's backyard item. The blue base is unique in shape and colour and will definitely become a talking point with all guests. The yellow seats of the swing add another nice touch of colour, really creating a swing set that is anything but ordinary.
What are your ideas for creating a kid-friendly designer backyard? Let us know in the comments section.
Looking for more kid-friendly design ideas? You can find more stylish tips for child friendly spaces here.